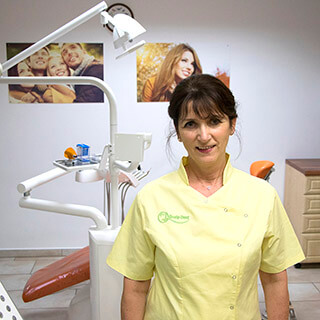 Dr. Edit Geszler – specialist in adult and child dentistry, and specialist in orthodontics
I finished my studies at the Semmelweis University of Medicine on the faculty of dental surgery in 1985. After finishing university I started working at the adult dental surgery of Szent Margit Surgery in Óbuda, and later I changed to the child dental surgery.
I took my specialist examinations in the illnesses of the tooth and the mouth, in child dentistry and in orthodontics. I have been engaged in orthodontics for nearly twenty years, as it being my main special field. With regular further trainings I try to keep my knowledge in dentistry and orthodontics up-to-date.
Beside precise and relaxed work, it is also very important for me to give the patients proper information both about the treatment and about their dental problems.